The Olive Oil Company - Our Story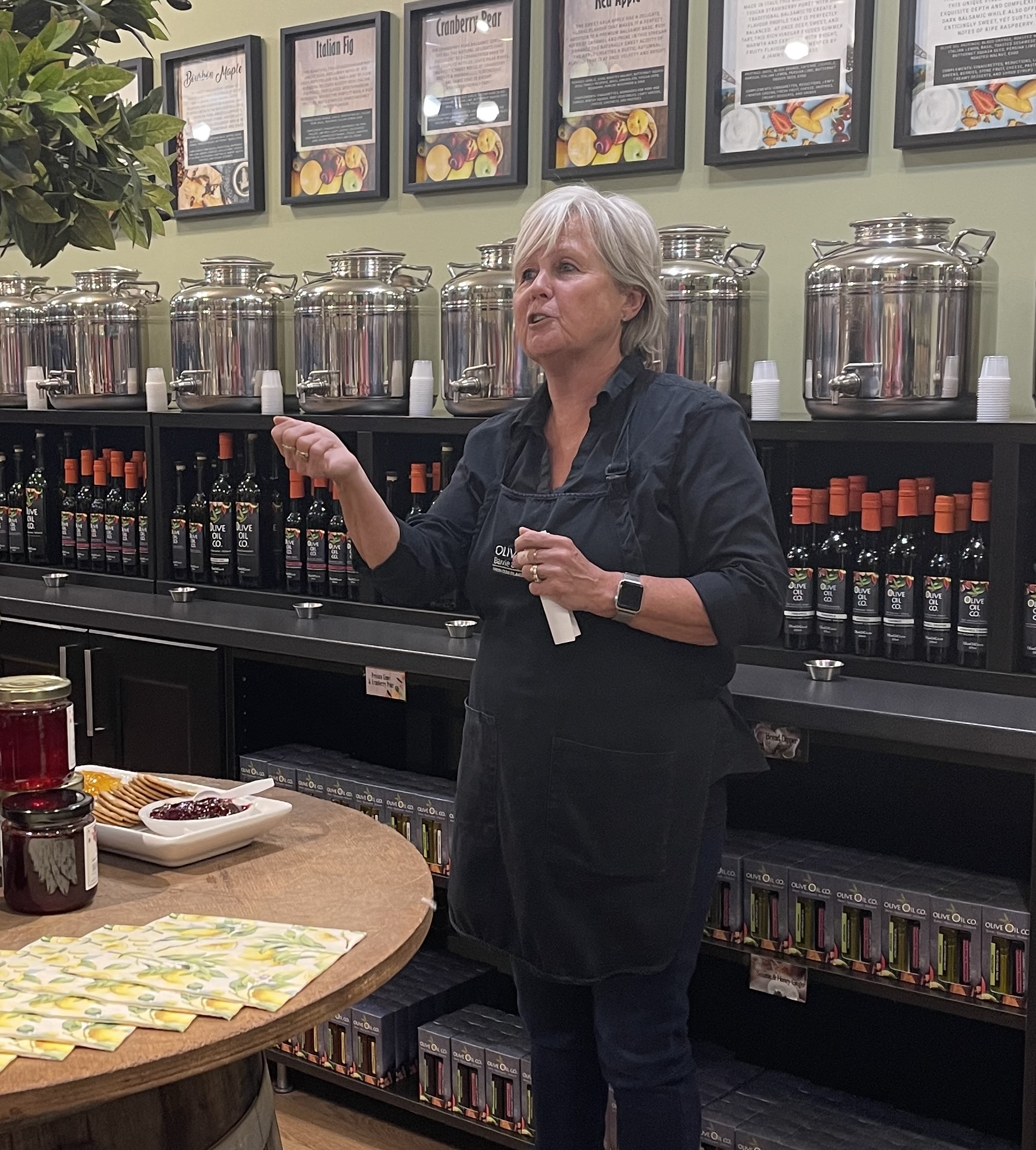 The Olive Oil Company in Barrie, Newmarket, Midland and Orillia: Delicious. Healthy. Simple.
At Olive Oil Co Inc. we import the very best olive oil from around the world and balsamic vinegar from Modena, Italy. Our oils and vinegars are of the highest premium quality available worldwide – over 75 varieties that you can taste before you buy – as well as a full line of gourmet food, gifts and more.  Our customer focus ensures that clients feel welcomed and go home with something they love and know how to use. Order Online – we offer contactless pickup, deliver our own orders locally and ship across Canada.
An avid world traveller, owner Denise Sindle-Tucker began her serious education in all things olive oil during a vacation to Italy in 2011. It was the first time she had tasted real fresh extra virgin olive oil and from that moment on was spoiled for any generic or store-brand olive oil. Subsequent trips to Italy, Spain, California, Arizona, Australia, New Zealand, Greece, Cyprus, Morocco and France solidified her interest in the liquid gold and she set about on a quest to learn as much as possible about the healthful properties and benefits of using olive oil in her personal kitchen.
In 2015 Denise decided to leave her lifelong advertising and marketing career and open an olive oil tasting bar in Downtown Barrie. In 2016 after opening a second location in South Barrie, Denise attended the Olive Oil Sommelier program at The International Culinary Centre in New York City to gain a deeper understanding about olive oil so she could better identify and source olive oils from around the world, make educated recommendations about which oils and balsamic should go with particular types of food based on her knowledge of oil and vinegar pairing, and suggest oils suited to customers' taste preferences and culinary requirements.  It was an interactive, fast-paced curriculum and ignited a passion that Denise shares with her team of foodies in four locations in Barrie, Newmarket, Midland and Orillia and our holiday Pop-Up location at Georgian Mall every year.
After opening a NEWMARKET location in 2017, a MIDLAND location in 2021 and an ORILLIA location in September 2023, we have a passionate and dedicated team of talented home chefs and olive oil and balsamic experts to help guide you, advise you and assist you in putting together selections for your kitchen and all your gifting needs..  
Remember: You don't need to be a chef to make GREAT meals; you just need high quality ingredients and a little inspiration. Visit us at The Olive Oil Co. for a taste experience you'll never forget!
Bringing You the Highest Quality Available
Premium Olive Oil
Our Super Premium Extra Virgin Olive Oils and our naturally-flavoured oils are the freshest and finest olive oils in the world today. The extra virgin olive oils are lab-tested and come with complete chemistry and flavour profiles and are always the freshest available. We follow very strict protocols in store. All oil remains in a lightless, moistureless, temperature regulated, air-tight environment until you are ready to take it home. All oils are First Pressed/Extraction and Cold Pressed/Extraction. Ask us – we know olive oil!
Authentic Balsamic Vinegar
Our Balsamic Vinegar is made in the traditional fashion and Crafted in Modena, Italy, starting with grape "must" and working it's way through a series of wooden barrels over the course of a years-long aging process. Unlike most others on the market, our balsamic contains absolutely no caramel colouring and is free of artificial colour and flavour. There is no added sugar. Our balsamic vinegars are the real deal – gluten-free, Non-GMO and Super Premium quality. Try dark balsamic, white balsamic and rose balsamic as well as quality wine vinegars.
Specialty Food & Gifts
International and local gourmet food products: Stonewall Kitchen aiolis, mustards, pestos, sweet & savoury spreads, Divina stuffed olives, roasted tomatoes, Favuzzi pastas and sauces, Al Dente Artisan Handmade & Plant-Based pastas, Spice of Life Hot Sauces, Breedon's Maple Syrup, Adam's Honey, Not Your Granny's Granola salad and dessert toppers, Saltwest Canadian Natural Sea Salts, Cheftacular marinades, Chelsea Chocolates, Olive Oil Skin Care as well as Artisano dipping plates, serving boards, recipe books,spouts, & more.